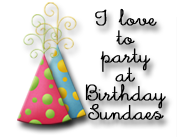 So I made another card and guys I would like to say that I think I am starting to get addicted to this card making thing :) the hubby is sooo supportive and I just love him for that he just bought me some better quality inks for stamping yayyyy!! So I wanted to share this card that I am going to enter into the Birthday Sundae Cakes and Cupcakes Blog Hop you guys should check it out its such a fun Hop! As usual let me know what you guys think and I will blog with you soon!!
I had some cupcake picks left over from my friends son's birthday party I had made for her and that's where the "Rockstar" cupcake came in I had this stamp that I had bought from michael's about 6mts ago that I always wanted to use but never had the chance so it was perfect! My cupcake and glasses are both cut from Create a Critter and I embossed the cupcake w/ my cuttlebug using the Robotz folder. The guitar is cut from Life's a Party, I used American Crafts and Bazzill for all my paper.
Card: 8 1/2 x 5 1/2
Base: 4 x 5 1/4
Cupcake: 3 1/2 on the E2
Glasses: 10 1/2 on the E2
Guitar: 3 1/2
Simple inside my next card Im gonna do something better but this is still cute I think!
~Keep GOD 1st in Everything~